Way back in March of 2016 Facebook announced that its algorithm would be favoring live video content even more than it does regular native video in News Feed.
Remember that Facebook didn't arbitrarily decide to do this: naturally it's a response to user consumption patterns.
When a company tells you not only what's working best for engaging users on its platform, but that they're basically changing the rules to favor content produced in a given format, you'd think that companies would sit up, take notice and aggressively move into producing content in that format, at least to test.
But in this case, at least so far, you'd be wrong. Take a look at this chart from socialbakers. What do you see? I see a huge, gaping opportunity for brands, or companies of any size.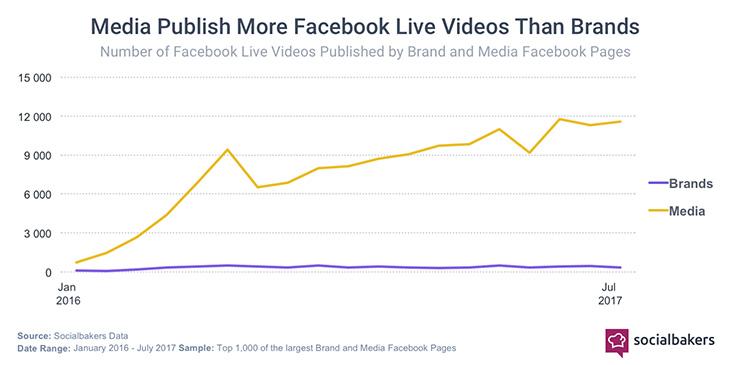 Think of the advantages of making use of Facebook Live in 2017:
People like it. Facebook users are more likely to (consume/engage) with live video content.
Facebook really hopes you'll use it. All else being equal, Facebook will give you an advantage in the News Feed over other types of content the competition is creating.
Potentially low production costs. By applying some creativity, cost-conscious companies and brands can keep the expense of leveraging live video relatively low. Post-production costs are not a factor with live video, and you'll probably be forgiven for not having slick production with Facebook Live. It's easy to imagine approaches that make use of spontaneity, personality and raw information over elaborate sets, etc. All this adds up to real opportunity for disruption vs companies with larger budgets.
Competitive advantage. Your competition in your niche is probably having a hard time making Facebook Live work for them, or more likely, aren't even trying!
A chance to leverage organic reach again. This is not paid advertising. The costs of this exposure is limited to production costs which again, can be kept low. Even testing paid Facebook ads can get expensive. One good idea well-executed with Facebook Live could achieve or exceed the kind of reach we'd love to achieve with paid ads.
If you're handling marketing for a company of any size, you should be testing ways to reach prospects and customers with Facebook Live.
For marketing agencies the opportunity is profound. Look again at the chart above. In 18 months the adoption of Facebook Live by brands is virtually negligible.
An agency that can find a way to help its clients systematically make effective use of Facebook Live would be filling a huge need from which it could really expand its client base.