A friend of mine was considering buying a website and asked my opinion on it. After checking to see that the site did in fact have Google Analytics installed (just click your right mouse button and look for 'view page source'), I told him to ask the seller to add me to their Google Analytics account.
In case you aren't aware, you can share read-only access to your Analytics account stats for any website in your account.
I looked at the site, gave my friend a thumbs-down (way too little traffic for the asking price!) and then attempted to remove myself as a user, so that the site in question would no longer show in the list of sites in my own Analytics account.
After granting someone read-only access to the Google Analytics stats for a website you own, removing their access is simple enough, but I just spent too long looking for a way to remove someone else's website from my Analytics account so that it  would no longer show in the list of sites in my Analytics admin.
A little Googling didn't help me, even searching more recent results, so let's see if I can help someone else here without getting too convoluted in my explanation.
Go into your Google Analytics account and–on the desktop dashboard–look for the gear icon in the far left bottom corner. In the upper left hand corner in the pulldown menu find the website you want to remove from the list of websites in your admin area–the site in the case owed by someone else.
Now, simply click on "User Management" in the Account column: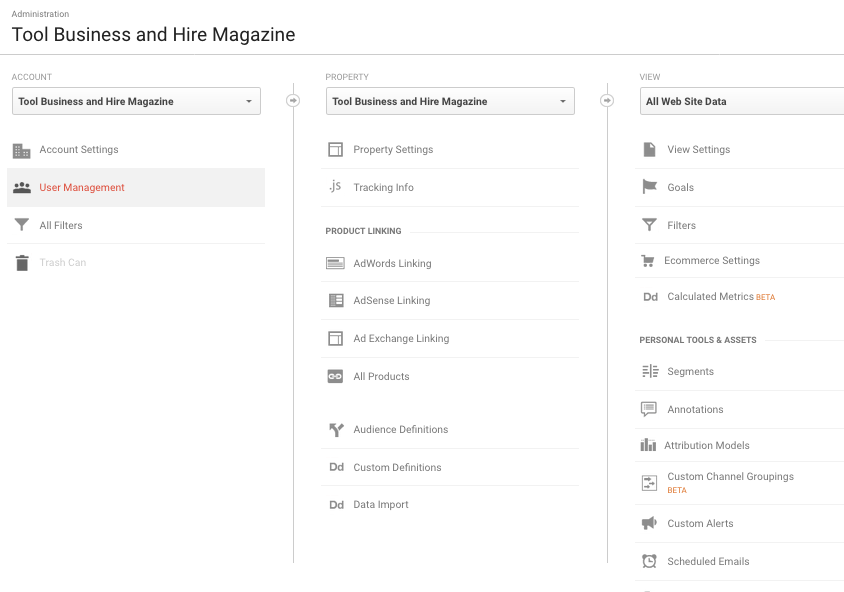 Assuming you do not own the site you have selected, you will now see the following. Click the blue "Remove myself from this account" button and you are done!